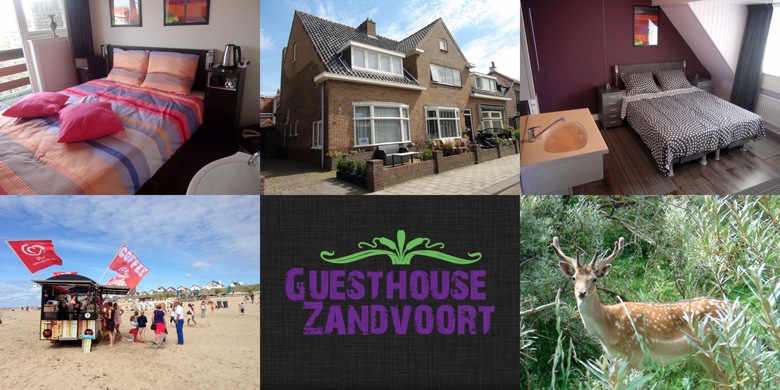 Guesthouse Zandvoort is located in a quiet street only 280 metres away from the beautiful wide sandy beach and only 400 metres from the downtown shopping area. A very friendly and hospitable family manages the accommodation.

In just a few minutes you can walk to one of Zandvoort's many beach clubs. You can also walk to downtown Zandvoort in a few minutes, where you will find Holland Casino, many restaurants and bars. The railway station is in downtown Zandvoort as well.

If you are looking for tranquillity, only 200 metres behind Guesthouse Zandvoort is one of the entrances of National Park Zuid-Kennemerland, where you can stroll through the sand dunes, ride your bike, swim or go horseback riding.


Accessability

Guesthouse Zandvoort is easily accessible by car. You can unload your baggage at the door and just around the corner, within walking distance, you will find (paid) parking. Bicycles can also be stored safely at the guesthouse.

The NS train station is a 10 minutes walk away from Guesthouse Zandvoort. The station offers a direct train to Amsterdam Central Station. The journey takes just 25 minutes and it also provides a good opportunity to go for a day trip to Amsterdam during your stay.

If you have heavy luggage or mobility problems and are not able to walk from the station to Guesthouse Zandvoort, we offer a free shuttle service. In this case, please contact us to make an appointment.

You will find Circuit Park Zandvoort in 15 walking minutes.


Parking

200 meters behind Guesthouse Zandvoort, besides the Sand Dunes is a large (paid) parking. You can park your car here even for several days if desired.


Check-in / check-out

The usual check-in time at Guesthouse Zandvoort is between 14:00 and 18:00 pm.
The usual time to check out is between 08:00 and 10:30 am.
Should you arrive or want to leave at a different time, ask for the possibilities, because obviously we want to make your stay at Guesthouse Zandvoort as comfortable as possible.

Would you like to see our room rates, availability or make a reservation? Click here.